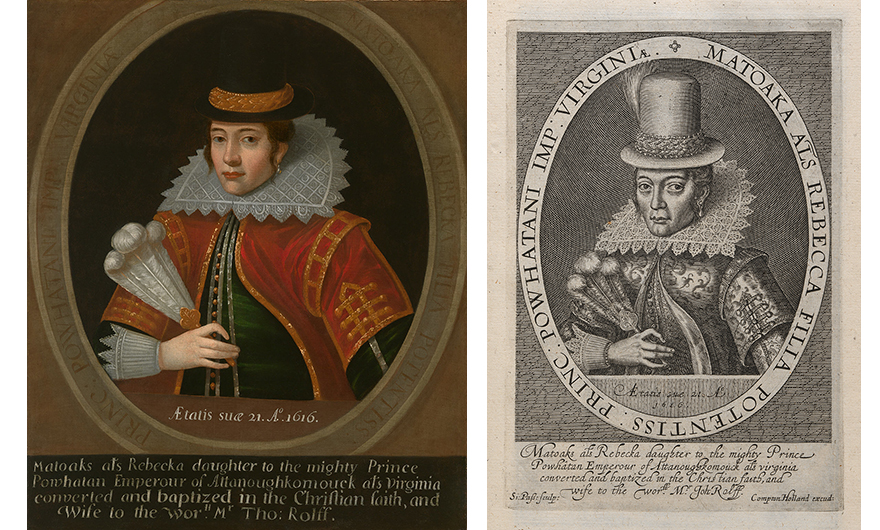 Pocahontas c. 1595–1617 | Born near present-day Richmond, Virginia (left image)  Unidentified artist, after Simon van de Passe | Oil on canvas, after 1616 | Transfer from the National Gallery of Art; gift of the A. W. Mellon Educational and Charitable Trust, 1942 (right image) Simon van de Passe, 1595–1647 | Engraving on paper, 1616
Pocahontas, the Indian princess who allegedly saved the life of English colonist John Smith, survives and flourishes as an example of an early American heroine. While Smith certainly embellished the story of his rescue, the importance of Pocahontas to relations between colonists and Native Americans is undisputed. Following her conversion to Christianity and marriage to Englishman John Rolfe, Pocahontas journeyed to England with her family to demonstrate the ability of new settlers and native tribes to coexist in the Virginia colony.
In 1616, while in England, Pocahontas sat for her portrait, which was engraved by Simon van de Passe. A print from the engraving was published in London in the Bazilioologia, A Booke of Kings (1618). The painting was made by an unidentified artist based on van de Passe's 1616 engraving. The painted version alters Pocahontas's image by lightening her skin and softening her features. These alterations, which downplay her Native American heritage, were possibly made in an effort to make her appear more beautiful to European eyes. 
Compare and contrast these two portraits of Pocahontas. Identify the similarities and differences.
One of these images is based on life, and the other is a copy. Can you tell me which is which? How do you know?
Why should we closely examine these two portraits of Pocahontas together?