Rachel Carson (1907–1964)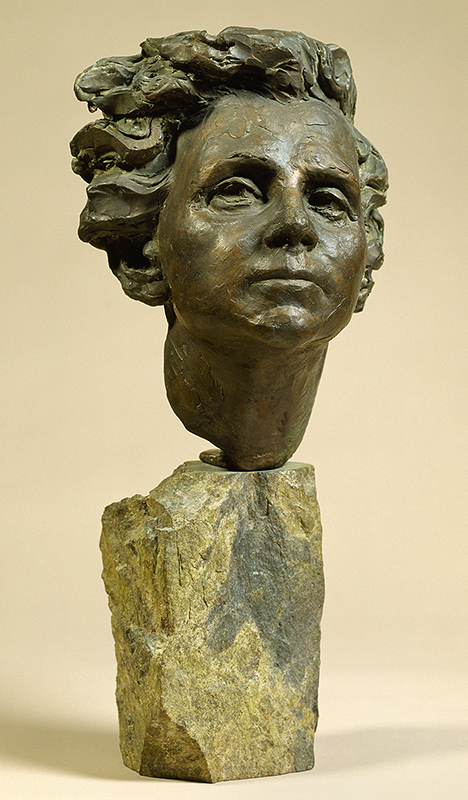 Rachel Carson 1907–1964 | Born Springdale, Pennsylvania  |  Una Hanbury (1904–1990) | Bronze, 1965
As a government scientist, Rachel Carson became concerned about the ecological impact of pesticides, especially DDT, and in 1962, she published the groundbreaking book, Silent Spring. Finely written and passionately reasoned, Silent Spring exploded into national consciousness and can be said to have started the modern environmental movement. Although some of its conclusions are still controversial today, the book was a warning that an active citizenry had to be skeptical of large institutions, an attitude that became a dominant theme of the 1960s and 1970s.
Una Hanbury and Carson met for the first and only time at an Audubon Society dinner in 1964.  Following an impromptu speech by Carson, Hanbury approached Carson and asked if she could make her portrait. Carson willingly agreed to pose. Hanbury was impressed by Carson's "tremendous vitality," but when she called to arrange a sitting only four months later, Carson was nearing death. She passed away one week later, leaving Hanbury no option but to work from photographs and memories of their single meeting for the portrait bust. Life magazine provided her with pictures taken at Carson's Maine tidal pools, and a number of Carson's close friends advised the artist while she worked on the portrait. 
How has this artist demonstrated Carson's love of the outdoors/environment?
What do you imagine she is looking at?
Where do you imagine she is?
How can we connect your answers to the previous questions with her biography?