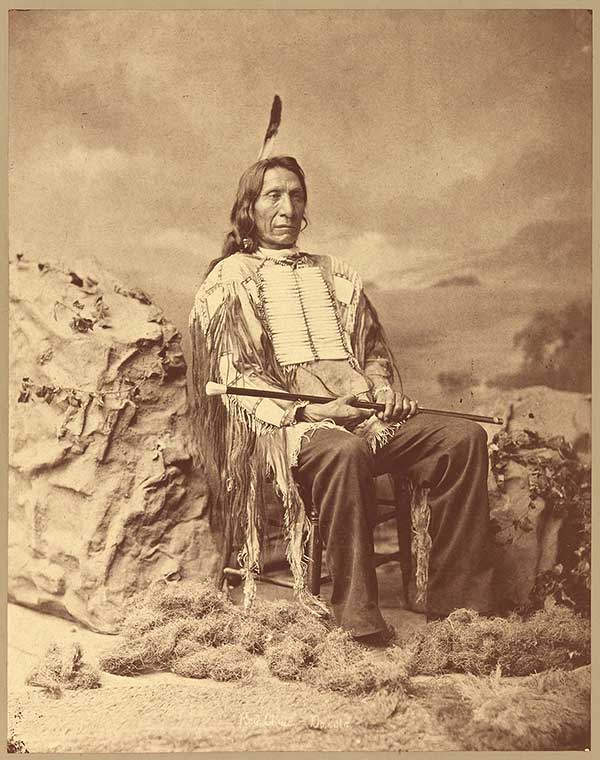 "I have tried to get from my Great Father what is right and just," exclaimed Red Cloud, Maȟpíya Lúta in Lakota, to government officials at the conclusion of his first trip to the East in 1870. Two years earlier, the celebrated Oglala Lakota (Sioux) leader had forced U.S. authorities to abandon a series of newly constructed forts meant to protect settlers moving across Native lands. His successful assaults on the forts compelled the U.S. government to sign the 1868 Fort Laramie Treaty guaranteeing the Lakota control of the Black Hills and much of South Dakota and Montana.
Despite the promises of the treaty, white settlement continued in Lakota lands in the 1870s, and violence broke out again between the Lakota and the U.S. Army. This time, however, Red Cloud chose diplomacy, not warfare, to protect the Lakota's land base and to ensure his nation's political and cultural independence. As the Lakota were forced onto reservations, Red Cloud emerged as a spokesman for his people—protesting government corruption in reservation administration; asserting the authority of the chiefs; opposing the Dawes Act of 1887, which undermined the traditional Lakota way of life; and cultivating contacts with eastern reformers. He negotiated with officials and eloquently criticized government Indian policy during his well-publicized trips to Washington, D.C., where he met with five different U.S. presidents over a period of thirty years. "Whose voice was first sounded on this land?" he asked his audience on one such trip. "The voice of the red people who had but bows and arrows. . . . When the white man comes in my country he leaves a trail of blood behind him."
Washington photographer Charles M. Bell seated Red Cloud next to a papier-mâché rock and a painted seascape backdrop for this portrait taken in 1880, during one of his many trips to the nation's capital. Red Cloud apparently arrived at Bell's studio wearing a traditional white man's suit; the adorned hide shirt that he wears for the photograph was lent to him by someone—perhaps the photographer or someone in his delegation party. He holds a silver-tipped cane that he was given by a friend at the Bureau of Indian Affairs. He was very proud of this cane, and it appears in various photographic portraits of him.
Creative Writing Activity
Writing Historical Fiction from Multiple Perspectives
Using the portrait as a visual prompt, write a story about Red Cloud's visit to Washington, D.C., from the perspective of Red Cloud himself. Then write a story using the same events and details, but tell it from the point of view of a U.S. government official or the photographer Charles M. Bell. Finally, use the same details and events to write a newspaper article describing Red Cloud's visit.
Learning to Look
Describe the expression of Red Cloud's face. What might he have been thinking or feeling when this photograph was taken?
The photographer, Charles M. Bell, seated Red Cloud in front of a painted background and a fake rock. What effect do you think Bell was trying to create with this setting? How would your impression of Red Cloud be different if he was sitting in a real outdoor setting? How would you view him differently if he were posed in an indoor setting? How would it change what you think of him if he were standing instead of sitting?
Red Cloud apparently arrived at Bell's studio wearing a traditional white man's suit; the shirt that he wears for the photograph was lent to him by someone. Why do you think that he was portrayed wearing this shirt? How would your impression of him be different if he were wearing a suit in this photograph?