Sandra Cisneros (born 1954)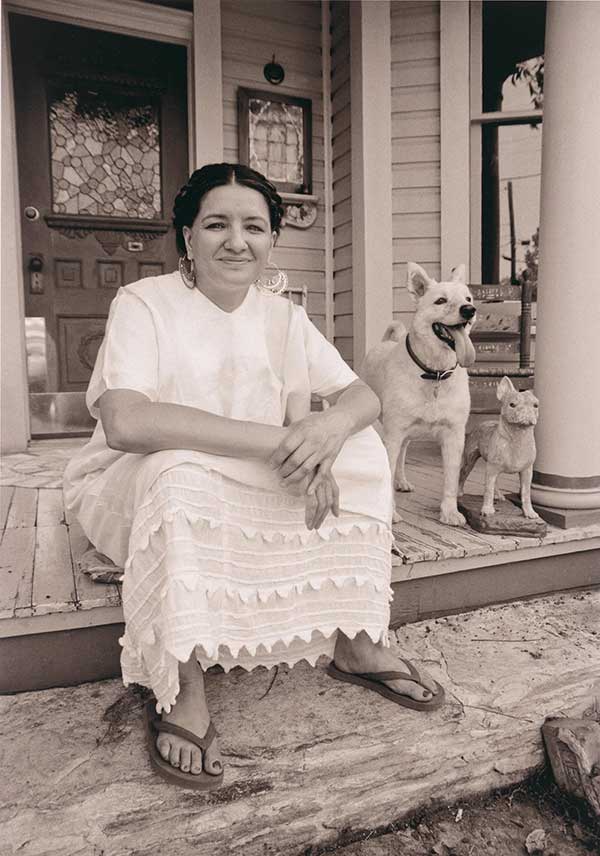 Sandra Cisneros is the most prominent Latina voice in American literature. She drew upon her experience as the daughter of a working- class Mexican American family in Chicago in her first published work, The House on Mango Street (1984). It earned her the coveted American Book Award and became required reading in public schools and universities across the country. Cisneros was the first Latina to become a MacArthur Fellow (1995), and in 2002 the New York Times and other national newspapers selected her novel Caramelo as a notable book of the year.
Cisneros projects herself in different ways in her many existing portraits, as if alluding to her free mind as a writer—wearing pink wigs or animal-print coats, or with her Virgin of Guadalupe tattoo exposed. Here we see her with her dog on the porch of her former residence in San Antonio, smiling at the viewer and wearing native Mexican attire.
 
Portrait Observations
Take one minute to look closely at this portrait. Take an additional minute to write down your initial observations.


Describe the individual represented in the portrait. Consider pose, expression, and clothing.


What is the setting of the portrait? How do you know?


What objects are in the portrait?
Portrait Analysis
Why do you think the artist chose these objects? Discuss the story that these symbols tell about Cisneros.


Why did the artist choose to portray Cisneros sitting on her front porch? How has the artist reflected Cisneros's identity and heritage in this portrait?


Although Cisneros was born in Chicago, her parents were both from Mexico. How is her Latin culture reflected in this portrait?
Connecting Portraiture to Literature
Now that your students have read both the portrait and The House on Mango Street, have them consider the similarities and differences in how the artist and how the author represent identity, culture, and symbolism in their respective works.


How does reading The House on Mango Street influence the way they see the portrait?