Sarah Weston Seaton with Her Children Augustine and Julia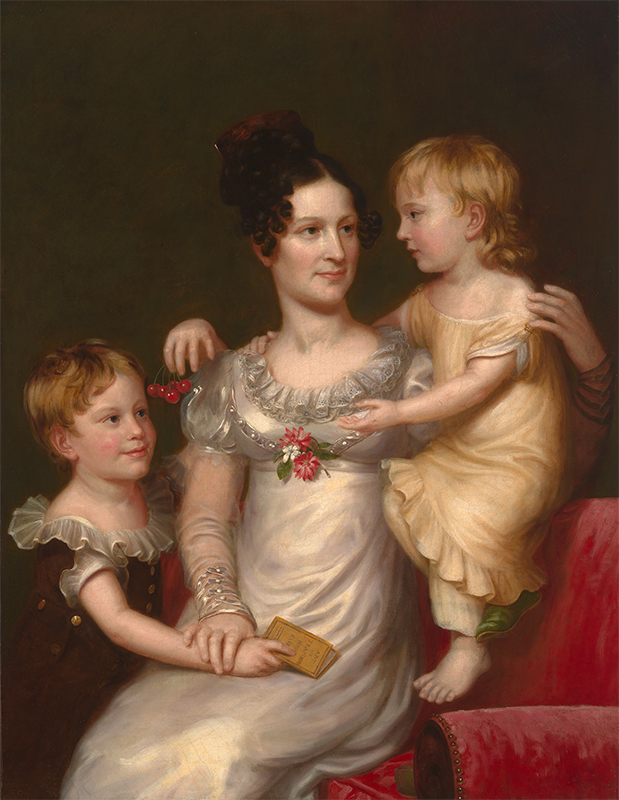 Sarah Weston Seaton with Her Children Augustine and Julia  |  Charles Bird King (1785–1862)  |  Oil on canvas, c. 1815  |  Bequest of Armida B. Colt  |  S/NPG.2011.147
In this playful group portrait painted in Washington, D.C., Sarah Weston Seaton's (1789–1863) son Augustine (1810–1835) holds a bunch of cherries just beyond the reach of his sister Julia (1812–1889). The book in his right hand makes his purpose clear: The Art of Teasing Mad[e] Easy Washing[ton] 18- . Sarah's husband, William Seaton, and her brother, Joseph Gales Jr., were co-owners of the National Intelligencer. Under their editorship, this important newspaper covered congressional proceedings. They were also the official printer for Congress. The Seatons, whose home was on E Street, NW, between Seventh and Eighth Streets, played leading roles in Washington's political and cultural affairs.
Charles Bird King, whose studio was at Twelfth and F Streets, was one of the city's major portrait painters. King was in high demand from Washington's elite; he painted eminent families such as the Seatons, and political leaders, including President James Monroe. He is best known for his paintings of members of the tribal delegations that visited Washington in the 1820s and 1830s. His collection of Native American portraits numbered over one hundred and was transferred to the Smithsonian in 1858. Unfortunately, a fire destroyed the majority of the collection in 1865.
Describe the clothing of the sitters. Consider textures as well by completing this statement, "If I could touch that, it would feel like …"
What is the relationship between the woman and the two children? How do you know?
What objects do you notice in the children's hands? What might these object tell us about this family?
Compare this portrait of Sarah Weston Seaton to Charles Willson Peale's portrait of Anne Catherine Hoof Green. How does each artist convey their roles in society during the eighteenth and nineteenth centuries?