Sequoyah (c. 1770–c. 1843)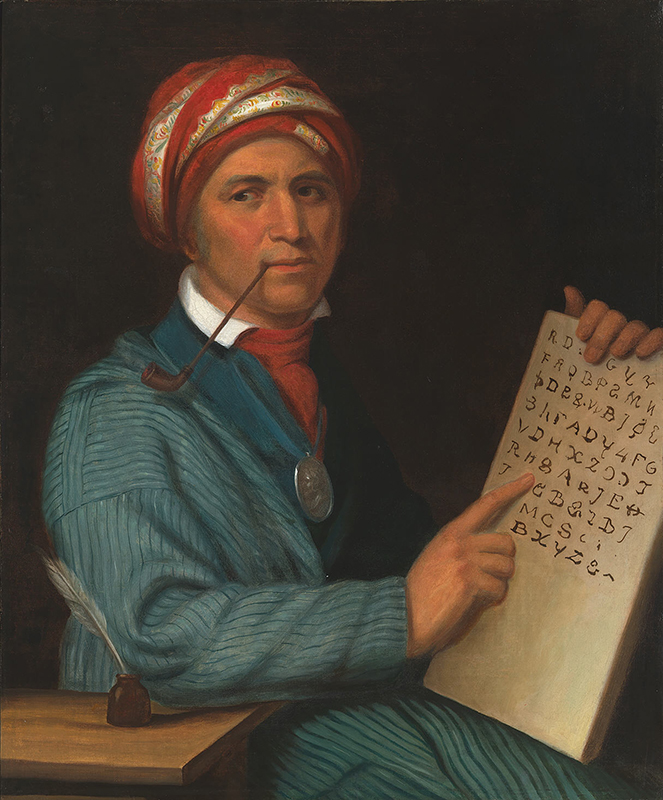 Sequoyah,  c. 1770–c. 1843  |  Born Cherokee town of Tuskegee, eastern Tennessee  |  Henry Inman (1801–1846), after Charles Bird King  |  Oil on canvas, c. 1830  |  NPG.79.174
Sequoyah, the son of a Cherokee chief's daughter and a fur trader from Virginia, was a warrior and hunter and, some say, a silversmith. For twelve years, he worked to devise a method of writing for the Cherokee language. His syllabary of eighty-five symbols representing vowel and consonant sounds was approved by the Cherokee chiefs in 1821. The simple utilitarian system made possible a rapid spread of literacy throughout the Cherokee nation. Medicine men set down ceremonies for healing, divination, war, and traditional ball games; missionaries translated hymns and the New Testament into the native language; and in 1828 the Cherokee Phoenix, a weekly bilingual newspaper, began publication at New Echota, Georgia.
This portrait of Sequoyah, painted by Henry Inman, after a painting by Charles Bird King, was made when the Cherokee leader was in Washington, D.C., in 1828 to negotiate a treaty. King's original portrait was part of a larger effort conceived by Thomas Loraine McKenney, commissioner of Indian affairs from 1824 to 1830, to record the culture and prominent figures of the Native American tribes. McKenney's collection eventually grew to include more than 140 portraits of Native American leaders. Hand colored lithographs were made of the paintings and compiled into the three volume book series, History of the Indian Tribes of North America.
Henry Inman copied the original portraits as part of the lithographing process. McKenney was clearly pleased with Inman's work. He declared that the copies were "more impressive than any thing I ever saw. Inman you know is a Master."  King's originals later belonged to the Smithsonian Institution, where they remained on display until a fire destroyed most of them in 1865.
Describe Sequoyah's clothing.  How does it compare to other clothing of the day? What might his clothing tell us about his place in society or culture?
What objects do you notice? What might they tell us about Sequoyah and his contribution?
Consider Seqouyah's pose. What is he doing, and how can we connect his pose to his biography?
Consider the importance of a written language.  What are communities able to do with a written language that they can't do without one?