Ulysses S. Grant (1822–1885)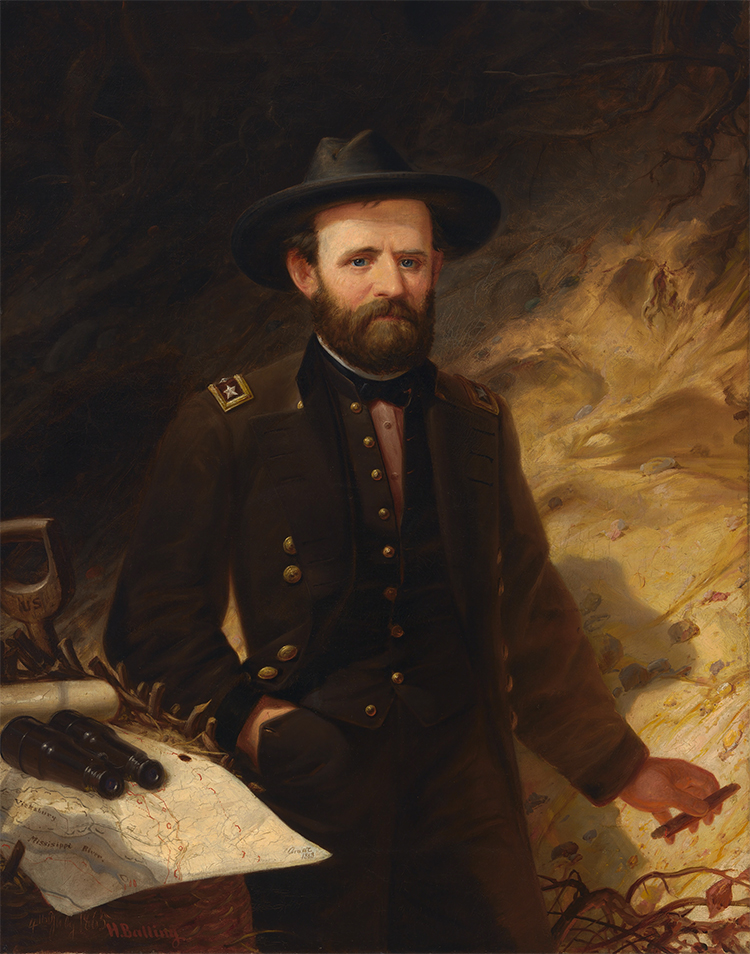 Ulysses S. Grant,  1822–1885 \ Born Point Pleasant, Ohio \ Ole Peter Hansen Balling (1823–1906) \ Oil on canvas, 1865
As a young man, Ulysses S. Grant was not interested in military life but entered West Point in order to secure an education. In 1854, he resigned his army commission and tried several business ventures, all unsuccessful. Grant reenlisted at the start of the Civil War, serving as a brigadier general until he began winning victories in 1862, the first at Fort Donelson, Tennessee, where his terms were "unconditional surrender." Although some said he was not fit for high command because he was known to drink, President Lincoln promoted him to lieutenant general in 1864 and gave him command of all the Union armies. In 1868, Grant was elected to the first of his two terms as president of the United States.
Norwegian-born artist Ole Peter Hansen Balling briefly served as a Union soldier at the start of the Civil War but returned to painting after being wounded. This portrait, finished in 1865, depicts Grant at a point of major triumph in the 1863 Battle of Vicksburg. He is shown in a trench, beside a table with binoculars and a map of the area along the Mississippi River. Balling created other portraits of Grant; in 1865, the artist won a major commission to paint the general alongside 26 of his officers, called Grant and His Generals (NPG.66.37).
See Think Wonder: What do you see? What do you think about what you see? What question(s) do you have about what you see?
Consider the story Balling is telling about Grant with this portrait. Use clothing, setting, and objects as your guide.
Take a close look at the map beside Grant. Describe the geographic details depicted. How might this particular area be important to the Union army in 1863?