Celebrating Dizzy's 100th Birthday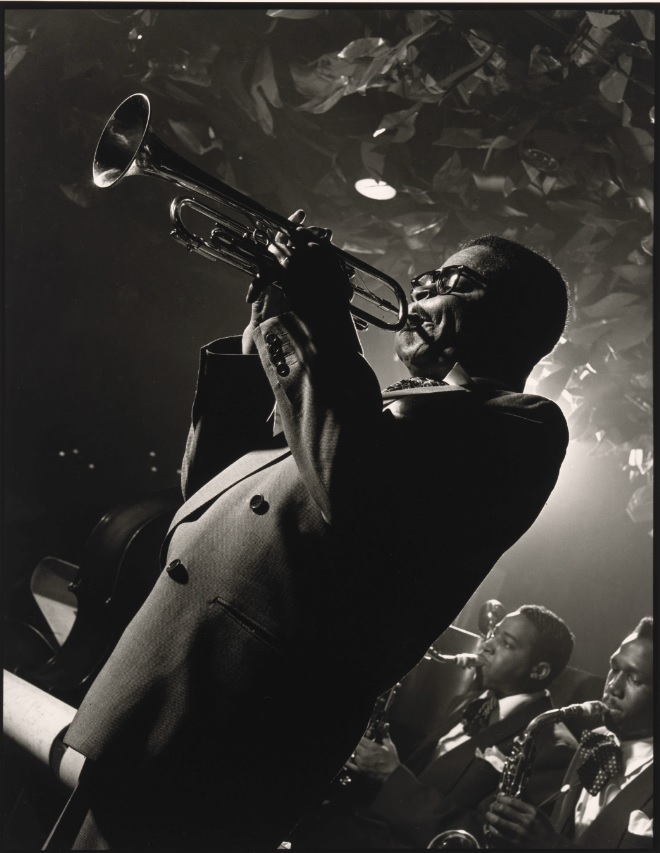 Jazz trumpeter, composer, and bandleader Dizzy Gillespie (October 21, 1917–January 6, 1993) first gained fame in the early 1940s, but he had such talent and staying power that he was still a dynamic presence on the music scene five decades later. Gillespie was only twenty-two when he joined Cab Calloway's legendary big band in 1939, yet the maturity of his playing was already undeniable. His solos enlivened many of Calloway's recordings, and Gillespie's innovative arrangements laid the groundwork for his future experiments in rhythm and composition. After meeting saxophonist Charlie Parker in Kansas City in 1940, Gillespie joined Parker, pianist Thelonious Monk, and other young musicians in freewheeling jam sessions that spawned the new, energetic form of jazz known as bebop. Emerging rapidly as one of bebop's greatest practitioners, Gillespie also played a pivotal role in introducing Afro-Cuban jazz to worldwide audiences. He toured extensively and was hailed as modern jazz's most ebullient ambassador.
In 1948 photographer Herman Leonard (1923–2010) opened his first studio in New York City's Greenwich Village. His timing could not have been better, at least as far as jazz was concerned. The swing era, with its big bands and full orchestrations, was giving way to small ensembles experimenting with bebop and cool jazz. Now, instead of dancing to the music, patrons sat and listened as groundbreaking musicians like Dizzy Gillespie created musical "conversations" through inspired improvisation. Leonard's personal infatuation with jazz led him to haunt the city's smoky clubs and crowded nightspots, including the Royal Roost. There, armed with his bulky Speed Graphic camera, Leonard captured this evocative image of Dizzy Gillespie in performance in 1948.