Kogod Courtyard Designed by Norman Foster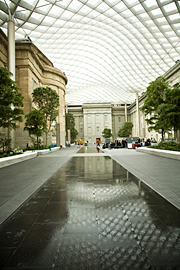 The Robert and Arlene Kogod Courtyard, a signature element of the renovated Donald W. Reynolds Center for American Art and Portraiture, opened to the public Sunday, Nov. 18. The building houses the Smithsonian's National Portrait Gallery and the Smithsonian American Art Museum.  For more views of the Kogod Courtyard, see this slideshow.
The enclosed courtyard with its elegant glass canopy designed by world-renowned architects Foster + Partners provides a distinctive, contemporary accent to the museums' Greek Revival building.
Foster + Partners was assisted by internationally acclaimed landscape designer Kathryn Gustafson of Seattle-based Gustafson Guthrie Nichol Ltd. in the creation of the courtyard's interior design, with a variety of trees and plantings, as well as a unique water feature. The courtyard is named for major donors Robert and Arlene Kogod, Washington philanthropists and art collectors.
Foster + Partners worked with the Smithsonian to create an innovative enclosure for the 28,000-square-foot space at the center of the building that was sensitive to the historic structure and yet added a modern element to the building. The light-filled Kogod Courtyard will become a major gathering place in the nation's capital. It will be a welcoming space downtown, as well as a public venue for the museums' performances, lectures and special events. Free public wireless Internet access (Wi-Fi) will be available in the courtyard. The Courtyard Café will offer casual dining during public museum hours (11:30 a.m. to 6:30 p.m.).