Minoru Yamasaki, World Trade Center Architect
This blogpost originally appeared Sept. 11, 2018
Minoru Yamasaki (1912–1986) was riding a wave of critical acclaim in September 1962, when New York City's Port Authority chose him as the architect for its ambitious World Trade Center project in lower Manhattan. Two of Yamasaki's buildings—Detroit's McGregor Memorial Conference Center at Wayne State University (1958) and the Reynolds Metals Company Building in Southfield, Michigan (1959)—had recently earned top honors from the American Institute of Architects. In Seattle, Washington, his graceful design for the Federal Science Pavilion at the 1962 World's Fair was proving immensely popular with the public and critics alike.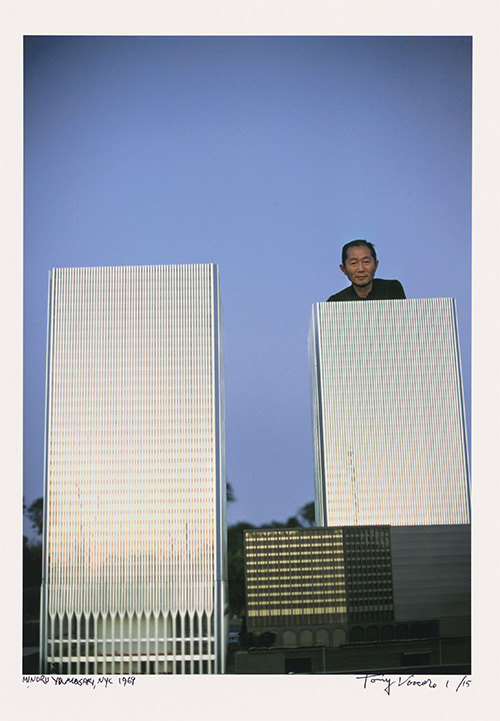 The child of Japanese immigrants, Yamasaki was born and raised in Seattle, where he was often the target of anti-Japanese prejudice. Intent on becoming an architect, he earned a degree in architecture from the University of Washington before making his way to New York City in 1934. This move eastward later saved him from the fate of Japanese Americans living on the West Coast, who endured mass incarceration at the hands of federal authorities during World War II.
In 1935 Yamasaki secured a position as a designer and draughtsman with the New York architectural firm of Githens and Keally. He went on to work for several more Manhattan firms and taught architectural design at Columbia University. In 1945, he relocated to Detroit, Michigan, to serve as chief of design for Smith, Hinchman & Grylls. During his tenure, Yamasaki's principal projects included the Michigan State Office Center in Lansing (1947) and the Federal Reserve Bank annex in Detroit (1950).
After forming an architectural partnership in 1949, Yamasaki undertook a series of high-profile commissions that established his credentials as a designer of large-scale projects. These included the ill-fated Pruitt-Igoe Housing Project for the St. Louis Housing Authority (1952, demolished in 1972) and the Lambert Field–St. Louis Airport Terminal Building (1956), which inaugurated the practice of engaging leading architects to design airport terminals.
Yamasaki reached a turning point in his career in 1955, when he embarked on an extended international tour that took him to Japan, India, the Middle East and Europe. He returned to his architectural practice brimming with inspiration from the myriad structures he had encountered during his travels. Thoroughly disenchanted with the austerity of the International Style—then the prevailing form of modern architecture—Yamasaki championed a decorative alternative to glass-walled skyscrapers. He now incorporated a variety of features such as metal screens, folded concrete forms, and light-filled atriums to enliven his buildings and create a sense of "visual delight."
In designing the 110-story twin towers of the World Trade Center, Yamasaki included gothic-style arches that became a recurring motif in his work throughout the 1960s and '70s. His fondness for "aesthetic thinness" found expression in the narrow spacing of the towers' windows and the vertical patterning created by the buildings' aluminum-alloy sheathing.
Upon their completion in 1976, the World Trade Center's twin towers garnered scant praise but, as Yamasaki predicted, they became iconic features of the Manhattan skyline. They outlived their designer (Yamasaki died of cancer in in 1986) and survived a terrorist bombing of the North tower in 1993. The twin towers were unable, however, to withstand the terrorist attacks of September 11, 2001. The steel columns of both the North and South towers withstood the impact of the airliners commandeered by the terrorists, but the buildings could not survive the fires fed by thousands of gallons of jet fuel. Their collapse claimed more than 2,600 lives.
The catastrophic destruction of the World Trade Center was unimaginable in 1969 when Minoru Yamasaki posed for this photograph with the models of his twin towers.