More than Just Faces in the Crowd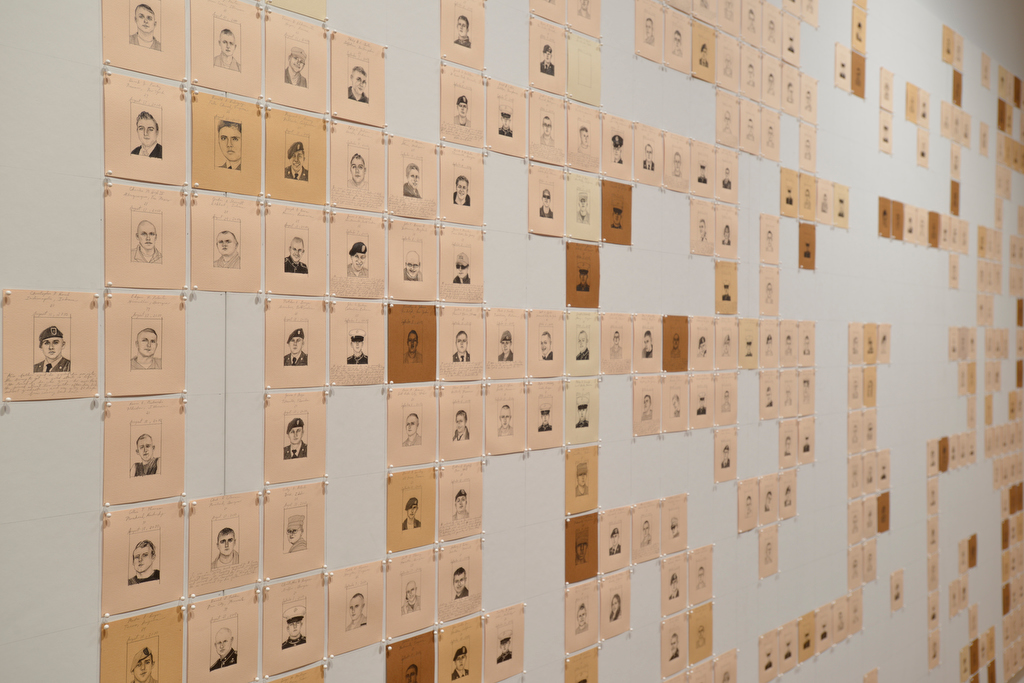 Emily Prince creates drawing-based installations that reference the passage of time and archival processes. The San Francisco–based artist began her series American Servicemen and Women Who Have Died in Iraq and Afghanistan (But Not Including the Wounded, Nor the Iraqis, nor the Afghanis) after seeing a news segment that included a photographic montage of fatally wounded soldiers. Struck by the profundity of the loss of human life, Prince turned to Honor the Fallen, a Military Times website that culls obituaries from local newspapers across the nation.  The project was shown at the 2007 Venice Biennale to much acclaim.
Working from the images and stories posted on Honor the Fallen, Prince uses pencil to draw the faces of soldiers who have died in combat. She chooses colored paper that generally corresponds to her subject's skin tone and annotates each portrait with biographical information, including the soldier's name, place of birth, and date of death. While Prince has used a grid to organize the drawings, when they are shown together, the intimately rendered faces create a dizzying effect. This tension between order and disorder evokes the feelings of grief, memory, and honor that are associated with individuals in the military, their families, their communities, and the nation as a whole.
Part of an ongoing project that now includes more than five thousand portraits, Prince's installation in The Face of Battle: Americans at War, 9/11 to Now represents only three years of her efforts (June 2009–June 2012). There is a comments book next to the work where visitors are encouraged to respond to the drawings and pay tribute to service members. Those who have written in this book have communicated a range of emotions—grief, patriotism, admiration, passion, and loneliness—feelings that convey the complexity of serving in or caring about someone who serves in the military.