On Giving the Gift of Song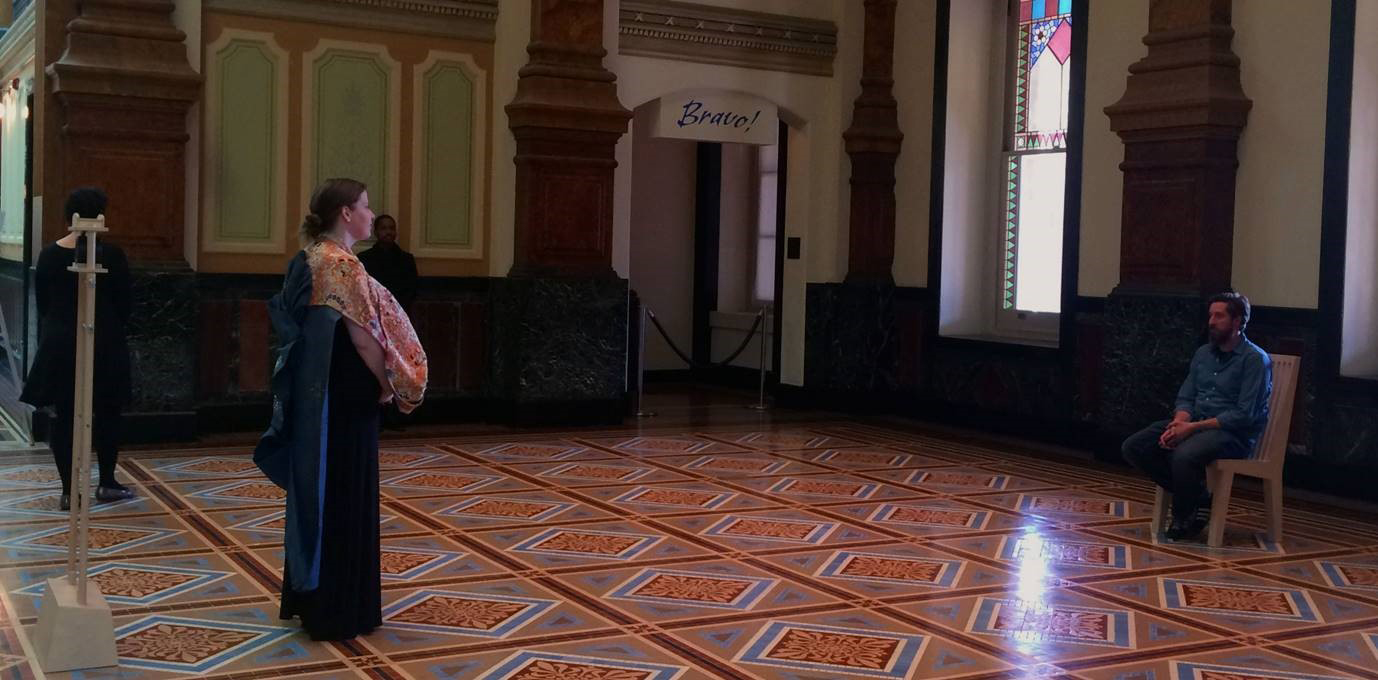 Emily Bell, one of the singers participating in the National Portrait Gallery's presentation of IDENTIFY: Sonic Blossom by Lee Mingwei, discusses her experiences working on the project with the Portrait Gallery's associate curator of photographs, Leslie Ureña.
What attracted you to Sonic Blossom?
EB: I love singing lieder, and I love art museums. Lee Mingwei's project was relatable for me. His inspiration came from caring for his mother after her surgery, and playing Schubert's lieder for her during her healing process. As a singer and historian, I have found great comfort and beauty in music of all genres, but even more meaningfulness in lieder, which combines beautiful and haunting German poetry with early musical Romanticism, delivered via the intimacy of solo voice and piano. I was sick for a long time, and there was a period when I was so inflamed and ill that I could not sing. As you can imagine, a singer without a voice is in quite a predicament. However, my voice recovered, and I now feel more connected and confident in my instrument than I did before my illnesses. Lee Mingwei wants the singer to share the gift of song with museum visitors. For me, singing is about sharing and expressing one's spirit and care with others.
Before the auditions, were you familiar with the five lieder that Lee Mingwei chose for the project? If not, how did you prepare for Sonic Blossom?
I have sung all of the lieder except for "An den Mond." The memorization of the words is always the hardest, so I translated the German poetry and practiced speaking the text over and over again.
At each session, you approach complete strangers with the gift of song. Have you ever been involved in a project such as this one? How does this differ from other singing opportunities?
EB: I have not been involved in a performance art installation before. I'm comfortable approaching strangers. This project differs from other projects I've participated in because I find it to be a more intimate and authentic experience and presentation.
How has Sonic Blossom changed or enriched your view of portraiture?
EB: Unlike a still life, this "living" portraiture gives new meaning to portraiture for me. As I sing to the invited guest, I notice how calm and still they sit. The natural light behind them, provided by the window, creates a kind of halo effect around their head. When the guest moves her face or body, the light dances off of her features. This calm yet lively experience gives me joy and comfort as I sing for the guest.