Toni Morrison: Author Among Authors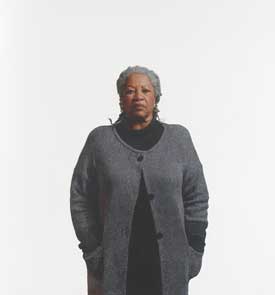 This blogpost originally appeared February 26, 2009
In 1993, Toni Morrison was awarded the Nobel Prize for literature. In presenting the Nobel Prize, Professor Sture Allen, Permanent Secretary of the Swedish Academy, said of her work, "Toni Morrison has given the Afro-American people their history back, piece by piece. In this perspective, her work is uncommonly consonant. At the same time, it is richly variegated. The reader derives vast pleasure from her superb narrative technique, shifting from novel to novel and marked by original development, although it is related to Faulkner and to the Latin American tradition. Toni Morrison's novels invite the reader to partake at many levels, and at varying degrees of complexity. Still, the most enduring impression they leave is of empathy, compassion with one's fellow human beings."
Toni Morrison infuses her language with poetry; this is part of what Professor Allen calls Morrison's "superb narrative technique."  In Morrison's work Beloved, an escaped slave woman, Sethe, is about to be returned to the south with her children. Rather than be caught and have her children grow up slaves, she decides to kill them; she is only able to kill one of her children, a baby she buries under a stone marked with the only word she can afford to have carved on it, "beloved."  Years later, the dead child returns as a grown person to haunt Sethe and her family. Sethe, however, embraces the ghost "Beloved" and allows herself to be dominated by its presence. Morrison's words both touch and terrify.
Beloved

You are my sister/You are my daughter

You are my face; you are me

I have found you again; you have come back to me

You are my Beloved

You are mine/You are mine/You are mine

I have your milk/I have your smile

I will take care of you

You are my face; I am you.  Why did you leave me who am you?

I will never leave you again/Don't ever leave me again

You will never leave me again

You went in the water

I drank your blood/I brought your milk

You forgot to smile

I loved you/You hurt me/You came back to me/You left me

I waited for you/You are mine/You are mine/You are mine
Another component of Morrison's technique is the manipulation of time within the narrative.  Like James Joyce, William Faulkner, and many of the modern realists and post-modern magical realists, Morrison will begin in one moment, and bounce back and forth in time to establish her story-line and character development. Interestingly, Toni Morrison's Nobel acceptance speech has hints of both ghosts and time-shifts:
I entered this hall pleasantly haunted by those who have entered it before me. That company of Laureates is both daunting and welcoming, for among its lists are names of persons whose work has made whole worlds available to me. The sweep and specificity of their art have sometimes broken my heart with the courage and clarity of its vision. The astonishing brilliance with which they practiced their craft has challenged and nurtured my own. My debt to them rivals the profound one I owe to the Swedish Academy for having selected me to join that distinguished alumnae...  I will leave this hall, however, with a new and much more delightful haunting than the one I felt upon entering: that is the company of Laureates yet to come. Those who, even as I speak, are mining, sifting and polishing languages for illuminations none of us has dreamed of. But whether or not any one of them secures a place in this pantheon, the gathering of these writers is unmistakable and mounting. Their voices bespeak civilizations gone and yet to be; the precipice from which their imaginations gaze will rivet us; they do not blink nor turn away.
This 2006 portrait of Toni Morrison, by artist Robert McCurdy, is on view in the Twentieth Century Americans exhibition at the National Portrait Gallery, on the museum's third floor.
>> Listen to Warren Perry's Face-to-Face talk on Toni Morrison (25:46)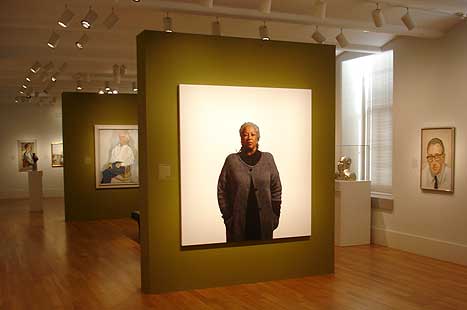 Sources:
Morrison, Toni.  Beloved.  New York:  Knopf, 1987.
Nobelprize.org