The Tommie L. Pegues and Donald A. Capoccia Conversation Series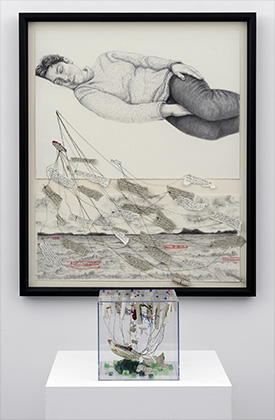 In Celebration of Pride: A Conversation with Riva Lehrer and Achy Obejas
Friday, June 17, 6:30 p.m.
McEvoy Auditorium
Join PORTAL, the National Portrait Gallery's Scholarly Center, for a dialogue between artist and educator Riva Lehrer and the subject of her piece in the Outwin Boochever Portrait Competition, Cuban American writer Achy Obejas. As a part of the Tommie L. Pegues and Donald A. Capoccia Conversation Series in LGBTQ+ Portraiture, this event will explore themes related to queer identity and disability. Moderated by Taína Caragol, curator of painting, sculpture, and Latinx art and history at the National Portrait Gallery, the conversation will also examine Lehrer's method for creating Obejas' portrait and the effects of the COVID-19 pandemic. Free admission.
Image: Risk Picture: Achy Obejas by Riva Lehrer / Charcoal, paper, thread, glass, fluorite, wire, and other media, 2020 / Lent by the artist and Zolla Lieberman Gallery
"We Starve Ourselves and Each Other": Hunger and Lesbian Self-Fashioning in 1970s America
Tuesday, June 8 | Online via Zoom
Closed captioning provided
Presented by Katie Anania, assistant professor of art history, University of Nebraska-Lincoln. Katherine Ott, curator and historian in the Division of Medicine and Science at the Smithsonian's National Museum of American History, moderators of the Q & A.
"Is death by famine worse than death by suicide?" asked the poet Adrienne Rich in "Hunger," her 1974 poem to Audre Lorde. The themes of hunger and starvation show up frequently in cross-racial second-wave queer feminist art and literature. This talk, therefore, explores the role of hunger and hunger strikes in 1970s activist communities in the United States, with a particular focus on lesbian poets and artists. Rich, who wrote about the five-year-long  grape strike in Delano, California, which included hunger strikes, was a fierce advocate for the right of farm workers to assert power using their bodies. As Rich, Lorde, and others in their circle reflected on the shared experience of hunger, both within and beyond the body, they fashioned it as a critical component of lesbian longing as well as an urgent political problem.
Fit for a Queen: Perkins Harnly, Victorian Style, and Queer Identity in Midcentury America
Tuesday, April 6 | Online via Zoom
Presented by Sarah Burns, Ruth N. Halls Professor Emerita, Art History, Indiana University 
Born on a hardscrabble Nebraska farm, artist Perkins Harnly crossed paths with legendary celebrities and colorful characters while visiting famous graveyards, winning prizes at drag balls and toiling in an upscale Los Angeles cafeteria. From the 1930s on, Harnly produced paintings of exuberantly overstuffed Victorian rooms embedded with sly jokes alluding to his own queer selfhood. Looking through the lenses of Harnly's life and art, this talk considered the role of the Victorian interior as metaphorical closet that served as a refuge from the judgment and dangers of the outside world. 
Eduardo Ardiles, founder of the Philadelphia-based architectural and interior design firm, Studio Edo, moderated the Q & A.
Antonius-Tín Bui and David Antonio Cruz in Conversation with Taína Caragol
Tuesday, Jan. 12 | 5 p.m.| Online Via Zoom
National Portrait Gallery curator Taína Caragol joined in conversation with David Antonio Cruz and Antonius-Tín Bui about portraiture as a platform to represent and honor LGBTQ+ communities of color. Both artists use portraiture and performance to explore the connections between queerness, their personal diasporic stories, and the communities that ground them. 
Cruz and Bui were finalists of the 2019 Outwin Boochever Portrait Competition, and their work is now on view in the traveling exhibition "The Outwin: American Portraiture Today" at the D'Amour Museum of Fine Arts of the Springfield Museums, Massachusetts. The competition and exhibition are made possible through generous support from the Virginia Outwin Boochever Portrait Competition Endowment.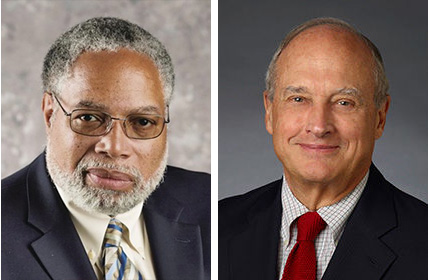 Queer Art and Controversy at the Smithsonian: A Conversation with Lonnie G. Bunch III and John W. McCarter Jr.
Tuesday, Aug. 4, 5:00 p.m | Online via Zoom
Smithsonian Secretary Lonnie G. Bunch III and former Smithsonian Regent John W. McCarter Jr. discussed the censorship of a video by David Wojnarowicz in the National Portrait Gallery's 2010 exhibition "Hide/Seek: Difference and Desire in American Portraiture."
Hide/Seek: Portraits for LGBTQ+ Pride Month
June 23, 2020 | Online via Zoom
NPG's Senior Historian Gwendolyn DuBois Shaw and co-curators Jonathan Katz and David Ward for a discussion of the landmark exhibition "Hide/Seek: Difference and Desire in American Portraiture" (2010). When Hide/Seek premiered ten years ago, it became the first major museum show to take on the issue of LGBTQ+ subjectivity in portraiture.